All, I have an Naim Uniti Atom and I am currently unable to use the AirPlay feature on my iPhone XR 14.4.2 to connect to my Atom. This is my main iPhone.
However, my iPad 6th Gen 14.4, my other iPhone 8 Plus 14.4.1, and my other/other iPhone 7 14.4 can use the AirPlay feature to my Atom just fine.
Perhaps:
I have the AirPlay setting incorrect on my iPhone XR (but they appear to be the same as the other iPhones)
Naim app does not support the newer 14.4.2 version.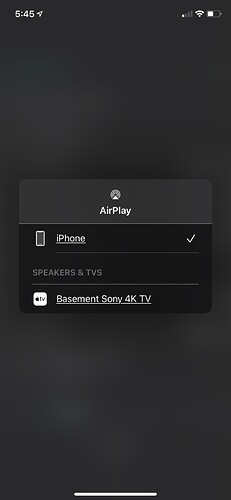 The first image is what I can connect via AirPlay and the second is what I can connect via Chromecast