Yes, I am. Also more irritable than normal.
Definitely.
It started even before the lockdown when I realised my driving was more distracted than normal - ended up in many lanes at regularly used junctions/exits I'd never normally enter.
I lost some new Airpods on Thursday - in my shorts whilst cutting a hedge - can't find them anywhere, emptied garden waste bins before collection, went through black waste bin contents and recycling bags too. Bizarre.
Today I went to Morrisons and after parking went to get a carrier bag from the back seat - none there - got some from the boot, closed it and suddenly car had automatically locked, keys on the back seat, door closed. Jogged home, struggled to find spare keys, eventually did and got Mrs AC to drive the locked car home while I went on an immediate therapeutic wine shop in M&S - supermarket sweep I guess £170 in 10 mins!!!
What kind of bloody question is that? Mind your own business! Erm, yes, probably
Me too, I live alone, no close family. haven't got yet to the stage of putting my underpants on my head, two pencils up my nose and crying Weebil
But do make mistakes driving and very, very tense when I go out.
After I have been out, tend to take rest of day off. It's trying to stay safe for myself and others when some clearly don't think the rules apply to them.
I am so glad for Radio 3 … and the wine fridge
Thanks for your post, it made me feel that I wasn't the only one oh and Tipping Point for the sheer banality of it .
Is this one of those "Toilet Paper" questions?
No I think it is an informal check on asking how we are coping.
Man is a sociable animal and we are living very strange and abnormal lives.
I did wonder about that interpretation but thought it had a more jazzy connotation, especially if Scat Cat is involved: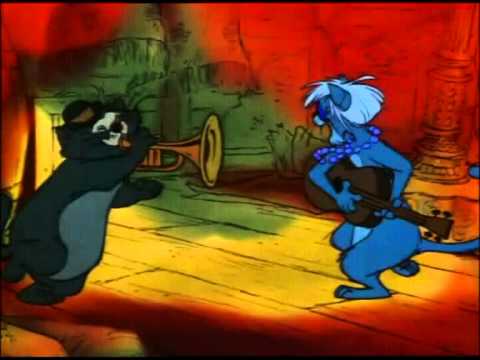 Watch it through, brilliant!
@Alley_Cat I always thought it was Louis Armstrong in that film song but apparently not - from a fandom page -
Scat Cat was originally written for Louis Armstrong to voice him and was originally named Satchmo Cat. Unfortunately for Armstrong, he became ill and was unable to voice the character, leading to the decision to replace him with Scatman Crothers, rename him "Scat Cat" and write a new song.
In answer to the OP question, not scatty - I am definitely even more organised than I usually am!
I am really missing meeting up with and spending time with my son and daughter (29 and 25) as we all have the same interests - music, theatre, film, art etc, and more often than not the laughter flows!
Around my birthday in the summer, I plan a surprise for them and in recent years we have done the Abbey Road Full Studio Tour/Lecture, Quincy Jones at the Proms, and The Crystal Maze Experience in London - you become a contestant in a recreation of the TV Show - great fun!
This July I have tickets for us to see Marcus Miller at Ronnie Scott's - their first visit - I have been several times, but it looks like I will be in credit with the venue for a future date instead.
Still, our next gathering will be special whenever or wherever it is.
Would #metoo make sense or be taken with some humour here ?
No worries…
this too shall pass…
Without sounding preachy…maybe you might want to try deep breathing exercises to still the mind ?
Give it a spin…with headphones …
I like your display pic / avatar pic here…
Looks like a happy cat
Brought a smile here…
Thanks, no panic attacks but something to try.
Just grateful that I am breathing. Others are far worse , so just grateful for all the positives such as living deep in rural Berkshire , music and the cat.
Best wishes
I think it was my first Disney movie at the cinema in the 70's and somewhat different to the earlier 'classics', but great character acting/singing from Phil Harris.
Having had the pleasure of some e-mails with Phil Harris at Naim a few years ago, it's a name which which makes me smile for more than one reason!
The soundtrack might actually have been my first vinyl LP!
Eva Gabor's voice is also so sensual.