Hmm, I guess Singapore no idea what your son's name is though
A Glasswing butterfly & a Scythebill (not too sure, maybe a red)
Somewhere in Central or northern South America.
Mike is right on two counts. The butterfly is the giveaway. I have a Colombian name for the bird. They are in the coffee area. My son is Nick!
Phil
I put up another feeder yesterday and all of a sudden I have so many birds frequenting: sometimes there are more than ten. Next week, I'll put up two more to allow them to choose from pecans, walnuts, hazelnuts and peanuts:

Wishing everyone a lovely Bank Holiday
A Red Kite, taking an interest in me and my dog (more the dog than me I suspect!). Unfortunately, only had the 24-105 zoom so have had to crop quite a bit to get these a decent size. Also saw a Kestrel, a Golden Eagle and two Peregrines - quite a haul for my local hills.
Cheers,
Ian
Arenal/ La Fortuna, Costa Rica, in a span of about 2 hours:
Wonderful…….that was a holiday that got cancelled for us due to covid👍
Hopefully you can reschedule! Such an easy place to enjoy oneself. All of those bird photos were from hotel grounds. There are beautiful and interesting birds everywhere you look. One locally-born hotel employee bragged that Costa Rica is home to more species of birds than any other country save Ecuador, which isn't true at all, but you could forgive him for thinking so!
If off to central highlands cloud forest make sure you get to see Resplendent quetzal…… one of my all time favourites……… though not best time of year to see them
Absolutely right! I didn't see one on my prior trip there. We hope to take our 6-year-old daughter there next year, as she is crazy about animals and flowers, and both flora and fauna there are stunning. And everywhere. I think my favorite birds that I saw on that trip were the scarlet macaw, the rainbow-billed toucan, and the white-throated magpie jay that joined me for breakfast at my table on three consecutive mornings!
The swan goose (Anser cygnoides ) is a large goose with a natural breeding range in inland Mongolia, northernmost China, and the Russian Far East. It is migratory and winters mainly in central and eastern China. Vagrant birds are encountered in Japan and Korea (where it used to winter in numbers when it was more common), and more rarely in Kazakhstan, Laos, coastal Siberia, Taiwan, Thailand and Uzbekistan.[2][3]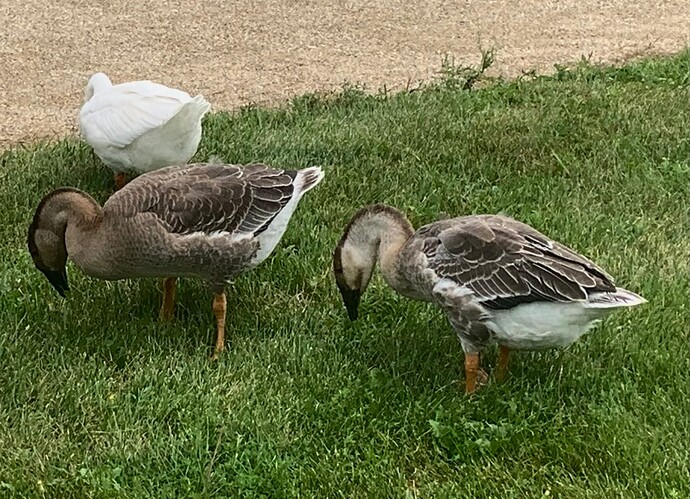 No mention of the US. I wonder how they managed to go through immigration.
Escapees? if they were a rare vagrant Id guess you would only generally see one.