Ours fell over last night!…Righted now and it seems to be holding.
G
We want pics of you and your snowman at some point😂
Thurs nae snaw … … … yet, ken.
Wouldn't be Christmas if the tree didn't take a tumble at least once.
Andrea takes the 2022 minimalist award quite comfortably IMO!!
Peter
What's the monolith behind the plant? Is it a speaker?
Sorted the theme for the sketching room, just need to decide the tree size now
(A recent visit to Warwick Castle)
You had me there for a second! Glorious room!
A lovely clock, @Debs.
And is that a Zuni fetish frog on the hearth? Looks almost like a Ricky Laahty carving: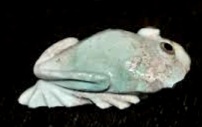 There is a screwed up Tesco receipt ?
Maybe it's a festive seasonal spirit hallucination?
Well, I am a bit croaky this evening!
But…it does look a wee bit froggy. If you squint

Life imitating Art
Subconscious origami skills!
Do you have a reindeer on both speakers for balance? Have you tried other soft toys to see how they affect the sound?
There's no need to disturb the reindeers, just have another dark chocolate brandy-liqueur and it will sound fine
This is my crappy, very old, fibre optic Xmas tree I got from Woolworths. It's starting to fall apart and sometimes the coloured disc gets stuck and needs a well aimed thump to encourage it's good behaviour. Despite its faults, Mrs G and I put it up every year along with our two other trees which are far more respectable. It's rubbish but we love it.
It's impossible to get a sharp pic of it, so apologies if you end up squinting.
With Christmas Eve this coming Friday, and time being very tight due to other things I decided to put up the tree this evening. As mentioned earlier it is our first attempt with a live one, and almost embarrassingly small (norm is the largest that will fit, sitting on the floor). Only enough space fir one set of lights. I decided on a theme of red and gold - though the dominant blue and green LEDs somewhat drown out the other colours! (There are actually an equal number of red, yellow, blue and green LEDs.)

Unilluminated:
And looking at that last pic it is a bit sparse with lights off, or maybe in full daylight with lights on, so I may add more decorations this eve.