That's quite clever, given the title
Honey I shrunk The Band !!!
I think it's John Coughlan at the back in all leather trying to look cool on platform shoes at a 45° angle…
OK, a bit of a cheat, and I've no idea if any of these albums are any good musically, but these covers are just…!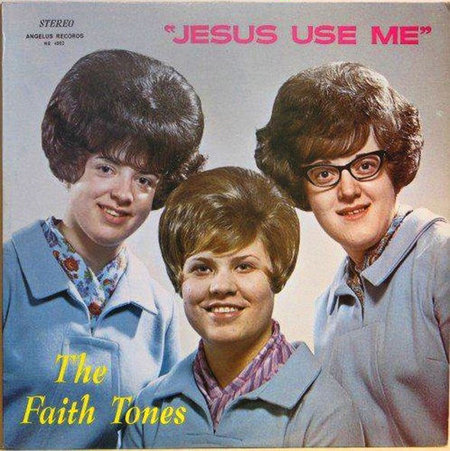 I just know that this one is going to give me nightmares…
That's because you haven't learned to let Jesus use you, Richard.
Blimey, there are some seriously scary Christian album covers…

Oh I don't think the cover is that bad! I don't know the album at all but If she asked me to, I would willingly give it a listen…
Best
David
One man's meat is another man's psychedelic toothpaste.
Stop it. These covers and whisky don't mix
That's the beauty of real life. Diversity.
That's enough to put me off my tea.
Apologies, I didn't mean any harm!
Enjoy your whisky…
I wonder if that first one is referring to the local priest.
Wow. That's really a decent cover. Shane about the album which is by far their weakest.
There are dozens of stupid covers a Google search away (more examples coming up). But I was hoping to see more that were supposed to be taken at least semi-seriously.
Can we stick with great albums with awful covers because this is seriously freaking me out