Wow, really! Please tell us more!
As the OP is now sorted, it's probably best for this to go into the Padded Cell so you can talk BMWs etc…
So we now have 2 BMW threads.
Should keep the petrolheads happy.
Looks like we are going to get a bit of rain here today.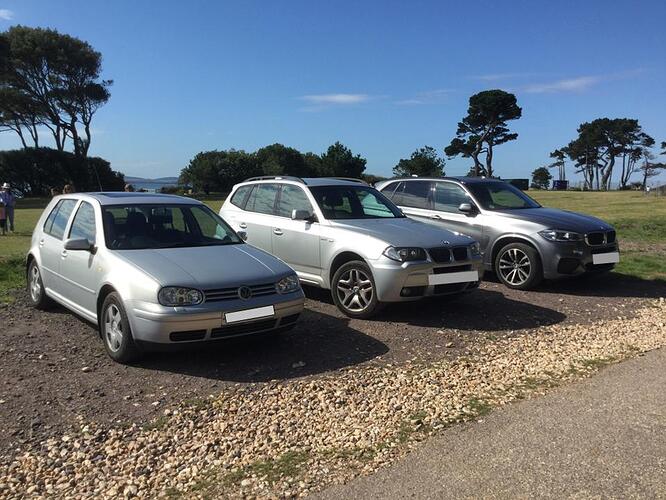 We had a family day out at Lepe. All hand-me-downs. Mum --> Daughter No.1 --> Daughter No.3 (No.2 lives in Canada)
So when the Golf drops out, No 3 will get No 1's car etc
Yipee…we're in the Padded Cell, anything goes!
Where is Lepe?
I had a X3 like that once, made in Brazil, piece of cr*p!
Nigel, I had a Mercedes ML out on demo not long after they were released made in the USA what a pile of SH!! surprised it stayed together on the trip over.
MLs really are the pits. BMW and Mercedes generally make good cars, but some models are rubbish. I have owned 3 and 5 series years ago and they were very good, although the old 2 litre petrol engines were veery sluggish.
I am not sure, am I off or on topic?
The X3 is pretty good despite the turbocharger issue ! I think it was made in Hungary, but I would have to check.
Lepe is on the Solent, opposite Cowes and about 5 miles west of Calshot.
I've lost track of which thread I'm in now … cars, hifi, holidays …
I had 3 X3s not the sharpest BMW to drive but never had any problems with any of them. All where diesels. They were all lousy pre amps though.
Without buzzing transformers?
Wow my car reliability analogy given in the "How many defective 552 units is Naim going to send me?" thread has created quite a following…!
The problem with the BMW is that if the power lead from the battery touches the road, performance drops horribly.
This topic was automatically closed 60 days after the last reply. New replies are no longer allowed.