They are sounding great. Driving Living Voice IBX speakers
I prefer these to my NAC62, and NAP140.
Just about to add an XPS 2 in an olive case now CB converted 10mins of careful sanding I did the same with my Supercap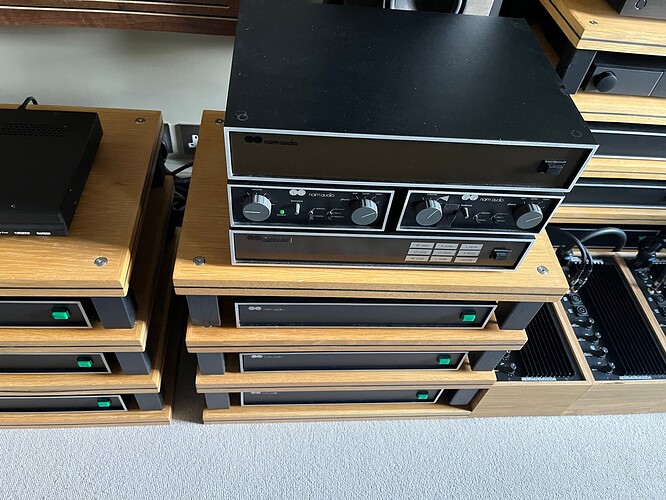 Thank you IDAK. I rather like it. And when we move it can fit into a simple space like on a sideboard.
Hello Richard
I have a CB 250 which looking up the serial numbers on Naim site puts it as a 1984 model
Just a question - that date - was the wattage 70W not 80W ?
If 70W what year did the 80W version come out?
Thanks for advice Richard
70W - just like mine… Which is an '85.
Believe the 80W rating came in with the 250.2…? Not sure when that came in - 2002…?
@Richard.Dane - ?
The original NAP250 was rated at 70W per channel into 8 ohms. The transformer was uprated in 1984 from 400VA to 500VA but the rated power output remained the same.
The NAP250.2 arrived in 2002 and was rated at 80W per channel into 8 ohms.
Thanks Richard great to know
Hi Richard,
Did the NAP135s get the 500VA uprated transformers too?
Yes, the 500VA rated transformer arrived with the NAP135 in 1984 and was also then used in the NAP250.
There is a new dawn……
I have had many bits of Naim kit over the last 20 years but I have always returned to the Nait2 Chrome Bumper. I love the little shoebox design and what a wonderful sound from such a little unsuspecting box.
In the past I have had to sell my Nait2s to purchase my new amplifier (all Naim amps or amp/streamers - oh, there was an Exposure XM5!). I was never really happy with the 'all-in-one' approach - loved the UnitiQute2 (the digital Nait2) but the sound was not the same. Same with the wonderfully versatile Atom. I even dabbled with the 32.5/110/LPS/non Naim boards and I loved it until I had an epiphany while considering a £400 lead to connect the pre/power. I missed the simplicity of my shoebox Nait2 and it's magical sound. It all went and the Nait2 was back.
As I have aged money has been a little less tight (the girls have gone and things have been paid off) so I indulged in a few Nait1s while keeping the CB Nait2. Still preferred the Nait2. I picked up an Ion Obelisk 3 which was rather good which unexpectedly led to the purchase of the Nytech CA352 which is a wonderfully simple shoebox amp (no inbuilt phono stage) that is rather magical. Why are Naim not doing something like this? Doesn't fit in with their 'lifestyle' model I suppose. And I thought that was it. The Nytech was the end of the road. Job done. Then I stupidly borrowed the Enleum Amp-23R. A lot of money, more than I ever thought I would pay for an amp the size of a coffee table book. Riddled with torment I purchased one. And what beautiful music it produces.
The Nait2 has been sold and I am now Naimless. Unlike others who still continue to contribute while being Naimless I am going to quietly disappear into my retirement (after 27 years of teaching). I will occasionally look at what music I should be listening to and find out what Naim are up to. I wish you all well.
Enjoy the music.
I think deep down you know the Nait 2 will not let you stay away forever!
No. That's it. Naimless (unless there is a new shoebox killer integrated in the pipeline which might interest me but I doubt it will better what I have now).
Forgot to say a big thank you for all the help/advice from members over the years.
Yes fully agree. They can end up costing more than the HiFi if one is not careful. Of course everything with moderation
Possibly Neil @badlyread has in the back of his mind as a fall-back position that my newly serviced CB Nait 2 will be available at some point, which would be poetic justice since I acquired it via him
(I've set my mind on a Nait XS3 when at some point one shows up at a rare moment aligned with my other life priorities and then budget, am also in a new life phase again)
A wonderful new phase in life, Neil, it's good to celebrate those.
And you are well covered going in there with the Enleum (I take it you traded in the Nytech for that).
Have a great Summer!
Really nice combination CB boxes with the nSats!
The LP12 looks totally classy, nice!
I know where you're coming from. I have a 30 year old Ion Obelisk 3 in my 'second' system in the study (though it's not really the second system any more as it's on most days since wfh became a thing) and every day it's running it brings a smile to my face.
Fantastic amp in a small box driving Neat Iota small boxes with no sense of smallness in presentation.