@Richard.Dane
Is the website supposed to have sdfsdfsdf under each item ?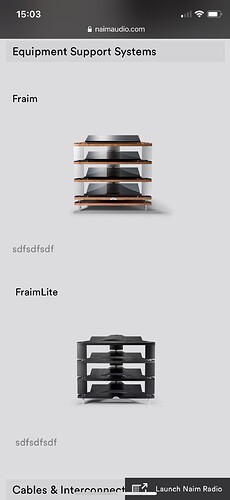 I would guess not. I do know that there's a good deal of work currently taking place on the site, so that may explain it. I'll flag it up to @Naim.Marketing. Thanks for bringing this to my attention.
No problem, looked to me as if the test site was live.
Doesn't it mean 'expensive' in Swedish?
Or is it a coffee table in Ikea?
Is it someone trying to attract a cat's attention and has got the call wrong?
something desirable, fittingly x3
Must be a firmware issue!
Dont worry, there will be a fix next week. Ahhh, next month. Anyway sometime soon, in the meantime just turn off the bits that don't work.
This topic was automatically closed 60 days after the last reply. New replies are no longer allowed.