"Just hum a few bars and I'll fake it…"
Thanks very much @IanF
Graeme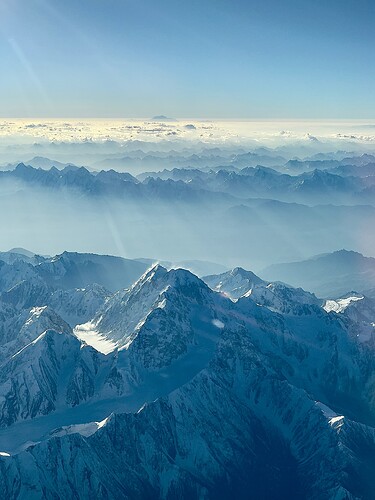 Kathmandu at sunrise. Believe it's K2 in the foreground, but one rock looks much like another to me! Taken en-route to a delightful (not) 29hrs room confinement in Hong Kong! Sometimes the long nights out of bed bring their own reward.
It has its moments for sure, but for every panoramic view of the Aurora, Greenland, Sub-Saharan Africa, the Alps (thinking of you @Thomas) or the Andes (to name a very few) there are countless long nights out of bed with the anticipation of an arrival in some cold/wet/windy (often all three together) airport where the controllers can regularly have an interesting interpretation on standard 'English' (and I include the US here
). But, all things considered, it beats working for a living…
The best view I ever had, though, was many years ago when flying the F4 Phantom in the RAF. I had an air test on a brilliantly clear day and took it up to 60,000ft doing Mach 2 and could quite clearly see the entire UK from coast to coast. Quite breathtaking. Then the low fuel warning light came on, but that's another story!
Indeed, was with some family members staying near kentallen. Them being new to strolling around the countryside thought it best not to take them up anything too high
3 little dots and a big dot.
You'll have to take my word for it that the 3 little dots are Moons of Jupiter…
What level of magnification do you use to get that level of detail, please? Are you using a software programme to align and track? It's something that I'd like to do with my son. He has a reasonably good telescope that we bought a short while ago for the grand conjunction, and we saw Jupiter and Saturn but I'm still not convinced we did it right.