The addition was by Not the nine o'clock news.
Reinsurance must have been too exciting for me - became an accountant…
Was offered jobs in the summer of 1984 between my second and third years at university by Ernst & Whinney, Price Waterhouse, Coopers & Lybrand, Peat Marwick Mitchell, Touche Ross and there must have been one more as I think I had six offers from the big 8 as they were, but didn't apply to Andersons or one other (Arthur Young?).
Anyway, the first post on this thread struck a chord with me - I chose E&W solely on the basis there was nothing negative that put me off them at interview, but the others all did. Terrible reasoning but I couldn't distinguish between them in any other way
I moved from Nova Sound Studios in Marble Arch to Virgin Studios … as assistant Engineer … mainly because they did only rock / pop projects, whereas Nova did a healthy mix of pop, classical, folk, and jingles … but … that regime was great discipline and a cracking way to learn fast. Virgin had superstar producers like Hugh Padgham as clients, had 4 studios in town + The Manor in Oxfordshire (a dream of mine to even visit, never mind work there … trust me I knew all the Mike Oldfield history already … wow!) all with the latest new fangled SSL mixing desks … computerised mixing was pretty new then, saving the mix data to floppy disk
and the Chief Engineer was a fellow scot. Not to mention the in-house chef, open air pool, and the friendly Irish Wolfhounds
Things move on though, and I returned to Scotland, soon adding Accountancy qualifications to my original Business Law degree, and later Software Technology qualifications … which I use to this day.
my father was a furrier. and he wanted me to carry on the business with my brother.
i hated it. being 16 i did not know any better.
never work with family.
I worked until 65. It was not just because i needed the money. I was lucky i had nice people in
My office including the boss.
Qualified as MLSO / Biomedical Scientist. First Job: in a MAFF Veterinary Investigation Centre (same techniques different interpretations). Short term contract so thought it would give me a years experience on the CV when looking for a hospital job.
First Boss: my now wife of 30 years and nothings changed😀
This thread reminds me of a book written by a friend of mine some years back trying to document history by resignation letters from many well known people, such as Steve Jobs, George Orwell and Charlie Sheen.
Really interesting and worth a read.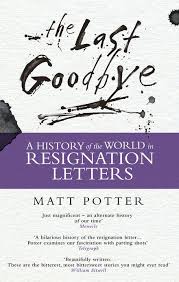 Not a job but I accepted an offer to York University because Tangerine Dream were playing the Minster that Autumn. From memory they cancelled but came back next year. Doubt it made any difference to academic attainment anyway - never went to a lecture and barely went to tutorials after the first term.
Reminds me of a friend at Uni reading pure maths. He drank a lot in the Union, played a lot of rugby, and never went to any lectures or tutorials. Graduated top of his year with a first.
This topic was automatically closed 60 days after the last reply. New replies are no longer allowed.