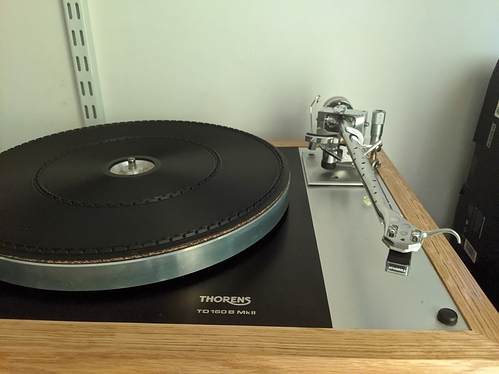 My old TD160B, I bought this about 35 years ago, it came in the black plinth. My infant son managed to break the cover (and damage the ADC something arm that was on it). I replaced the arm with an LVX… which also got damaged. I got the message and put the turntable away.
Years later, after a house move I unpacked it and set it up again. I've replaced the plinth and later the arm with an Audiomods arm (which I suspect is maybe too heavy for the deck although I have adjusted it and it bounces pretty evenly).
I made the mistake of fitting a DC Motor kit to it which added nothing, one day I'll put the original AC motor back on it.
I hardly ever use it, I've got a Gyrodec with an SME IV which is far superior, but since I've owned the TD160 for so long I suspect I'll hang onto it as an ornament for a while yet.