Did you try eBay? You can often find new old stock for parts for obsolete alarm systems listed there.
Nick, that sounds like a wonderful arrangement. The man who hit me when I was on my bike was 89 and had poor eyesight due to diabetes. His family had tried to stop him driving but he was stubborn and wouldn't stop. After he nearly killed me, the police did a sight test on him and his licence was taken away. That probably wouldn't have stopped him either, so his son in law put the car in the garage and screwed the door shut.
If only more people were as sensible as you and your daughter.
I'm celebrating my belated birthday with some bubbly in the water garden which is part of the Abbey grounds (Bury St Edmunds):

Wishing everyone a lovely evening/day
Late morning in Instow, looking across to west Appledore at low tide (and The Beaver Inn & The Royal George)
Late lunch at The Royal George, looking across to The Beaver Inn with the incoming tide (and Instow in the distance)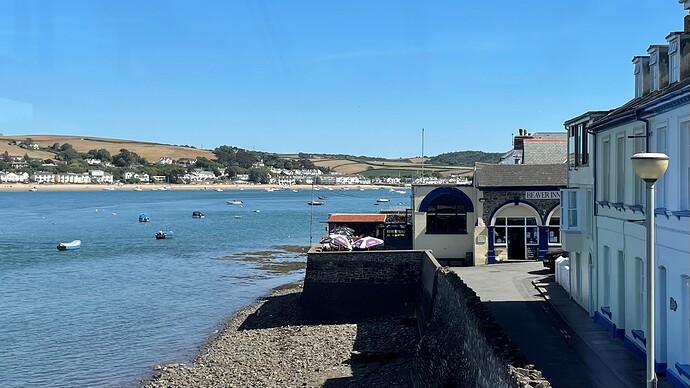 Late afternoon, high tide, inebriated at The Beaver Inn
Happy birthday (belated) enjoy the bubbly.
These two are having a great time. Champers at the Abbey and Ale at the Beavers. What's not to love?
Nice coverage of the audio show PAF in Stereophile Magazine of the FocalNaim room. It's on line FYI US price for Statement System $99,999 for each piece.
Two house viewings today. tbh I'm not a massive fan of either of them. I think the problem is I'm comparing to the last, failed, purchase - gosh that was a nice house
Has it 100% gone away? e.g. Assuming the title issues are a block and will need to be dealt with (unless someone takes a flyer/is poorly advised), could it come back on the market?
Dropped last of visitors of at TGV station …came home to empty quiet house …absolute bliss .
We had nine guests over the last few days including two whining sulky miserable teenagers …was I like that 60 years ago ? At least I used to say please and thank you and was willing to try ' different ' food .
Looking forward to simple life with a glass of rosé at lunch until the next lot of family arrives …is your drive wide enough for our Cayenne , we don't want to get it scratched . At least they have come via Beaune and there are promises of superb wines with supper.
@davidhendon
Had a look on eBay and couldn't spot the same model of keypad as we currently have, others of same brand available. Then there would be the need to get the alarm company to install and certify that…
On the other hand the new system they're proposing brings a lot of additional capabilities. PoE cameras (streaming to phone), notifications to my phone of alarm being triggered, ability to configure which zones are active via an app (currently we need an engineer to come out and do that).
So think I'll bite the bullet and get the whole thing upgraded.
Willy.
And a Happy Birthday from him
It might happen but I doubt it. It's now under offer again and we think that's the other buyers that were looking at it the same time as us. Assuming the seller (and agent) has been up front with the RoW issues then I'm guessing the new buyer has been convinced it's not a problem (note our solicitor was of the opinion it WAS a problem). If they haven't been told then it's possible this might still fall through and the seller might then face the fact she has to get it sorted. I'll be honest though, I'm not confident of this outcome
What if their solicitor is smarter than your solicitor. Just looking at all your woes from afar the problem is either you, your wife or your solicitor - go figure as my old boss would say.
Presumably the name of the restaurant was 'We Saw You Coming'.
It's possible. This was a different solicitor than we used the last two times and was recommended by the agent. We changed 'cause our first solicitor seemed out of his depth when it came to rural properties. Certainly the second solicitor sounded a lot more savvy and clued up when talking about septic tanks and boundaries. tbh we were convinced he knew his beans