Is that a Nakamichi microwave?
I'm preparing to drive to Blaze pizza for a couple of vegan specials.
Wow, looks like you are feeding an army.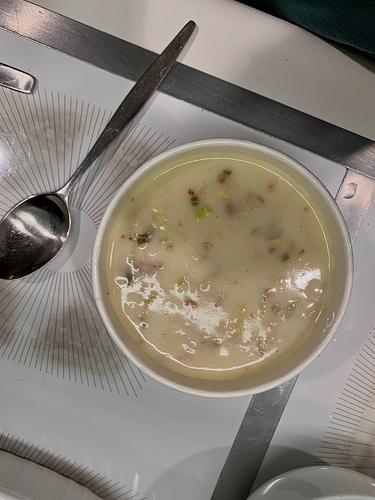 Cream based potato, ham and corn soup, much needed after five hours of slaving in the frozen yard and…
veal scallopini with peas, salad greens and plenty of sourdough bread. We have enough veal for three nights but the side dishes will vary. The beauty is that the whole meal (excluding the soup which was purchased at a deli) took 12 minutes to prepare.
Yellow curry with fresh caught Groper fish from Cook Strait I caught 2 days ago, and what vegetables we had in the fridge. The firm chunky flesh is excellent in a fish curry.
Fish curries have never appealed to me but yours does look tasty.
Scallop and prawn kebabs in red chermoula. Puy lentil, bulgar and kale salad.
Tomato and olives with spiced buttermilk dressing.
Cheers
Just a simple salad of coop bought mixed leaf and rocket, tomatoes, cucumber and peppered mackerel. I think I need more salad days…
Some Char Siu pork ramen.
A labour of love.
Had this marinating in my special sauce for 2 days.
After 4 bastings within a total 40 minute cook time.
Making the broth. Just onions, plenty of ginger, shiitake stalks. Soy and fish sauce with a tiny bit of my favourite chilli garlic paste.
The chefs treat of eating the ends .
Shall upload later the final results.
Where do you live Toby, and can I get there in time for serving?
I think that was a NO…we need to some how triangulate his position and home in on the next feast.
This evening leeks soup,quails wrapped in pig cheek and grilled radicchio trevigiano tardivo.
Oh,Lagrein is waiting…But this is another thread!
The last three evenings have been variations on a theme - winter sausage stew: one bowl wonders. The base is onions, leeks, celery, potatoes and tomatoes. The sausages this time were pork and leek, left over from Sunday breakfast. I usually add a few herbs from the garden at the beginning and then begin the variations.
In the first instance, it's natural, the second variation this time was with a mushroom rice stirred in at the end. The third variation was a type of borscht with loads of beetroot chopped in with extra potatoes. The final version was the best; barley cooked in stock, tempered chilli, coriander, cumin, fennel and ginger, with a sprinkling of Garam masala.
To be honest I'm not a fan of pork and leek sausages, I prefer pork and black pepper, or pork and fennel; therefore, the dog had the majority of them as leftovers when he licked out the bowls.
Thank goodness it's Friday, the good lady returns and meals become more interesting along with the wine.
Baba Ganoush (eggplant salad) and Lavach bread from a Palestinian grocery store to go with a steamed salmon fillet and asparagus dinner. One Boston Lager was allowed.
Not impossible. We need to share some photos with Bellingcat and they'll find him.