Sounds good, thanks for the tip about the eggs. Do you use hot or cold rice?
The rice was cooked this afternoon, then chilled in the fridge ready for this evening.
One of my "Sooper Dooper" chilli's tonight.
Mild but BURSTING with flavour.
Will be served on a bed of Basmati Rice​:yum:
UPDATED with Picture
Thanks, i thought i'd heard that it should be cold rice.I'll have to give this a go.
Oh dear. Here we go again.
Porridge for breakfast.
Had a peanut butter and jam sarnie earlier.
Proper Cheddar,Barbers.Wine a little withdrawn in my opinion. Needs cellaring apparently. I don't have enough time left to wait.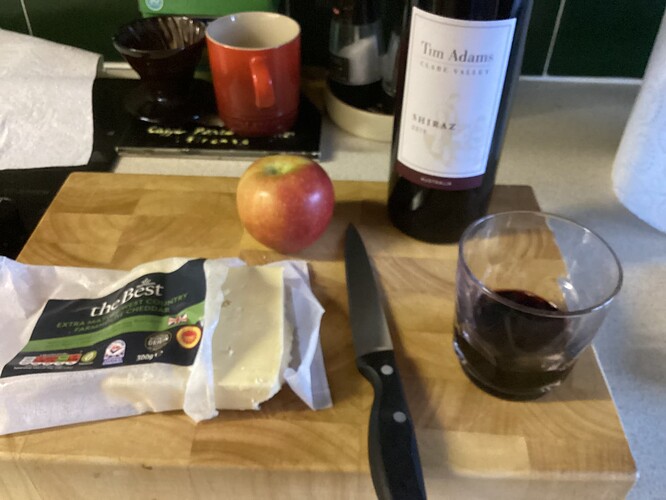 More than sufficient for an old man.
( You missed out the chocolate digestives)……Shhhhh
Roasted butternut squash, parsnips, swede, onions and garlic.
Then with stock and plenty of ginger to make up a lightly mashed up soup.
A few toasted baton sliced croutons.
Then with a generous sprinkling of smoked bacon crumbs. Parsley and red spring onion.
Along with half a goats cheese and caramelised onion tartlet.
Tonight was one of my Italian "concoctions", which I am gradually refining.
Basically, chunky sliced Chorizo, browned in olive oil, then tinned Italian chickpeas, tinned Italian tomatoes, with loadsa garlic, and a healthy sprinkling of basil, all washed down with a glug or two of Corsiero Nero Purosangue, and it's
all the way.
Farmed or Ocean line caught Salmon?
I simply can't eat farmed Salmon. I find it most unpalatable. It's so hard to get good wild, line caught Salmon here in the East of England🙁
Good thing you weren't invited for dinner.
Likewise … down in Lynmouth my travelling companion has had farmed salmon twice in 24 hrs. But she just glad to have fish (as is my dog who loves the skin - crispy or not).
Thing with farmed salmon its so variable, I've had very good to not so likable. You can tell when you cook it. For that special treat, like meat we buy, we get the best or don't bother. Better for you, supplier and producer.
Inspired by dave marshall's Italian concoction! here's my version. I added some orzo to bulk it up a bit as i didn't have any nice bread. Also no basil so i used oregano (which i'm not sure works) but first try not bad.
Looks lovely - funnily enough I bought a butternut squash today for the first time in years thinking about some kind of soup concoction.