On 21st Feb'74, Queen first appeared on the UK chart show, Top of the Pops, at short notice (after David Bowie cancelled). They played their new single Seven Seas of Rhye - which was rush released on 23rd February.
Queen appeared twice more, on TOTP - playing Seven Seas … - on 14th & 28th March. The single peaked at No. 10, on 7th April. Not sure which performance I saw, but its was one of these 3. I was impressed enough to buy the single, of Seven Seas of Rhye.
The album, Queen II, had been released on 7th March 1974. I bought that, too.
Up to this point, my musical tastes had been based on UK Singles, rather than Albums. Queen II changed that.
I was now a confirmed Queen Fan. Not sure how I found out that Queen were playing at Coventry Theatre, later that same year. I do remember that my Mother found out for me what day the tickets went on sale. I had never bought a ticket to a concert before. I understood you needed to queue…? True, but there were not many Queen fans in Coventry, in late 1974. I think there were 5 or 6 other people…? Again, not having ever bought a ticket to a concert before, I though that a seat right at the front was a good idea…
On 11th October, Killer Queen was released as a single.
On 3rd November 1974 I saw Queen at Coventry Theatre. Being on the front row was both good and bad. They were very loud - and I got 'drowned' in Dry Ice, pouring off the stage into the Stalls. Great view of course. Impressed…? What do you think…? Abso-bloomin-lutely. Blown Away. Literally.
I walked up from Coventry Theatre, afterwards, to get my bus home, from Broadgate, with my ears still ringing. I was just 16 years old.
On 8th November 1974, the album Shear Heart Attack was release. My Mother had a friend who worked in the WH Smith's records shop, so it was pre-ordered for me - with Staff Discount… lols.
Skip forward about 12 months, and the whole thing repeated, this time with the Night at the Opera Album & Tour and a strange single called Bohemian Rhapsody.
Lesson learned - got tickets in the Circle this time, again at Coventry Theatre (for 16th Nov'75). And queuing was involved - still not a huge number of fans - but dozens for sure.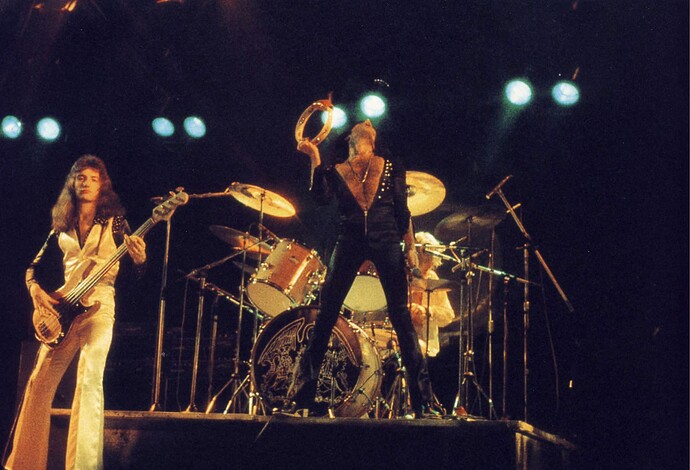 At the time, I thought Queen were good - but I didn't realize how good they were. They were just becoming well known - and the Sing Alongs with Freddie were still in the future. They were basically still a good Hard Rock - Prog group, but the clues were there, on where they would be heading.
I didn't see Queen again for a number of years. They moved on to larger venues, further away. It wasn't until the NEC in Birmingham began doing concerts, that I saw them again. The first was in I think Hall 4 - all on the flat - could see much. But I think a year or so later, the Arena (Hall 7) was ready - and now Queen that we know - the Stadium Band, with all the Sing Alongs was there. Think I saw them twice there…?
My final Queen gig (I am not counting a later Q+PR show) was the Milton Keynes Bowl show - on the Hot Space Tour. Hmmm… But still Good In Parts…! Heart were one of the support bands, who I came to a lot later.
But it all started back in 1974. At that concert.
3rd November 1974, Coventry Theatre, Front Stalls, £1-75.
Thank you, to all those involved. To my Mother for helping to get my Ticket. To fellow Queen fans, who came along - and got blown away too. And to the band Queen - Freddie, Brian, John & Roger.
(Thanks to the power of the Interwbz enabling me to find & confirm all the dates here - my memory may be good, but not that good.)