I'm a big fan of Simon Drew; he is part 'artist and part wit' who is based in Dartmouth. This is one of my favourites.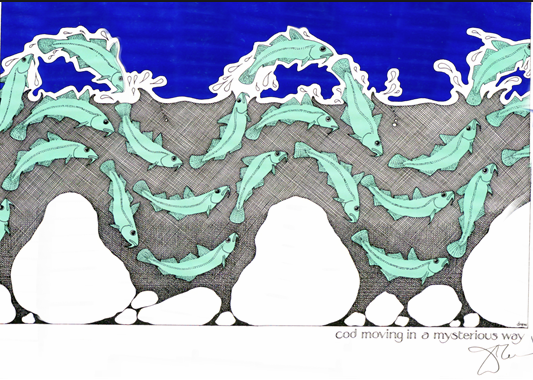 Those cod are very Escher-ish!
Look like they should interlock…
Nice.
Very clever and attractive, it reminds me of the punchline to this Alexei Sayle sketch.
Man with hole in pocket feels cocky all day.
Thank you FB
For thinking people …The Flat Earth Society have members around the globe.
Thanks to The Tiger Lilies on the other place.

This from a Czech friend on the other place: Už Máme cigarety bez nikotinu, pivo bez alkoholu, kafe bez kofeinu, auta bez řidičů, ale vládu bez idiotů ještě NE!!!
Translation: We already have cigarettes without nicotine, beer without alcohol, coffee without caffeine, cars without drivers, but the government without idiots not yet!!!
Hmmm. Todmorden is a bit like that.
Thanks to the Tiger Lilies on the other place.
An old timer I once worked with said after one of "those" staff meetings…"I Fu##en Hate Good Ideas!"
Why's that? I asked.
"Because they take five minutes to arrive and thirty years to Fu##en leave!"
And now many years later, I find myself at times muttering the same thing.
If you enjoyed the time you wasted.
Then it is not a waste of time.
Orion's Belt is a big waist of space.
"I know what you are thinking"
Really ?, and without communicating ?
Those times when the other outsiders seem to know what you are thinking within a totally random situation whilst you are not even saying anything and having a cheerful expression.
We are all fish in the sea.