Expanding the thread with …

Wow, the history of Europe encapsulated in jostling bubbles! Excellent!
Timely, given Mr. Neve's recent passing.
I guess it is supposed to be funny… perhaps more US centric? But job title tends to mean very little unless you are starting your career… tends to be more about recognition or role… and success for many is about not needing to be a slave to your job…
They come under salary, that (particularly hifi) being what salary is for, in addition to mundane things like food and shelter. Curiously the better model doesn't include happy & stable relationships.
As others, I'm surprised at job title being a large enough segment to feature in either as a measure of success. However, although I think job title is rarely a measure of success per se, it certainly can affect the way others respond, as in how seriously they take someone. As an example, my wife is a head chef, but usually just calls herself a cook, or occasionally head cook. But call herself by full title and all of a sudden people who otherwise were inclined to dismiss her sit up and take notice. Similarly I don't generally refer to myself by any of my job titles, except when in conversation with someone who is being dismissive because they think they are in some way superior.
Job titles: I have never understood the self-importance of title @Innocent_Bystander and @Simon-in-Suffolk . Perhaps it is a status thing, which may be more important elsewhere. As for the two charts I suppose they reflect our changing priorities.
Similarly, I could never understand why some business cards list all affiliations and qualifications, whilst others just state a name. Working in Eastern Europe made me realise that some cultures place high value on status, titles and qualifications. I tend to treat these things, perhaps hypocritically, as elitist.
I was surprised just now by a phone call from the NHS (diabetes programme) where I was asked for my title. Is this a little little old fashioned?
More likely it's a field on patient/customer systems… but yes some people seem to get very particular about their titles…
it's always interesting in staff directories to see who wants to state Dr or Mr/Ms… the other amusing one is stating BEng(Hons) or similar after your name…why?
We used to have someone who worked in Council Tax who sent letters out appended with LLB Hons. I took immense pleasure in both challenging the idiocy of using it to intimidate CT payers who were in arrears and pointing out that he was essentially pointing out that I quite liked his publicly declaring that he wasn't good enough to practice law.
What nightmare is this - U.K. reimagined as the USA? Apparently this is a Twitter thing from @milkmanmeme …

Seems quite amusing to me - a nice way of showing how each region of the country you know corresponds (at least approximately) to the relevant region of the other country.
So, Cornwall's like Florida because it's got decent weather and is a popular holiday destination for the rest of the country. West Midlands a bit like Illinois because it's fairly industrialised. And so on.
Yanko Tsvetkov has published a book full of this sort of thing called the Atlas of Prejudice. It's so funny I have to regularly close it and wait until I stop laughing before I can go on. I've shown several of the maps to people from the countries concerned and they've all agreed vociferously with them. One of my favourites is this: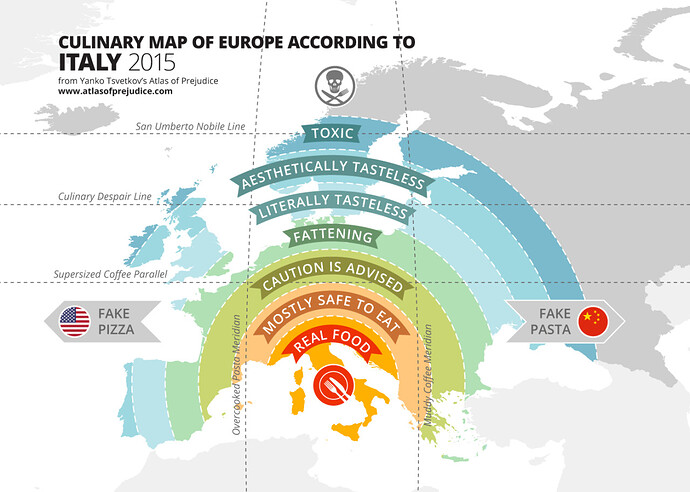 Mark
I think the Texans might get a shock if they relocated to Scotland - or perhaps not given their extreme weather a couple of weeks ago. And tge residents of tge original Washington may be bemused to find they are in Kansas, not Washington - doubtless others likewise.