Herb Robert is like Cranesbill on steroids. We had a huge one a couple of years ago but it didn't survive the winter.
At least I think it's Herb Robert - whatever it is it's very easy to pull up if you need to.
Looks like Herb Robert to me, but it's hard to jusge the size from your photo. It's much bigger that other Geraniums, but not very hardy. Ours grew to a metre in height in its first year.
I believe the blue Aquilegia is native to Britain, although there are lots of pink, white and red varieties that generally look identical apart from the flower colour. I tend to just ket then self seed everwhere and remove any that are in the 'wrong' place.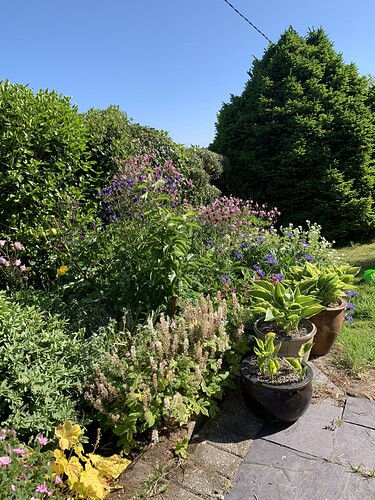 This one is definitely a garden cultivar:
Well our enforced No Mow May is over, as last week I toddled off to a local lawn mower shop and acquired a replacement for the twenty+ year old Bosch that caught fire - OK, so no flames but it smoked a lot……
We now have a battery powered, self propelled EGO, that hopefully "will see us both out".
Yes I've been scattering the seeds at the end of the season. Mine are mostly blue and some purple. Nothing like as exciting as yours.
Always love the cowparsley often seen as a roadside wild hedgerow.
Now starting to get burned off from the stronger sun.
My Ox Eye daisies are just coming into flower
A few more weeks yet before I cut
However , this is one lawn in the village
(Trying out my new Fuji)
About 1946 and me in short trousers would wait for the stems to harden and by then the vetch would have produced nice hard seeds.
Pea shooter time.
Very pleased with ours.
Phil
No mow May has turned into no mow June here in N Wales, where nearly all of the rain that finally arrived across much of the UK missed us completely. We still have a few brown patches, but also some wildlife friendly flowers on the grass, plus some buttercups, clover and speedwell.
It's all gone over, I am strimming letting the seeds settle and then it's the mower , lots of oregano has found it's way in and I am strimming around that and anything else that looks interesting.
Sadly my little supervisor is not here to give advice
I tried to mow around daisies and other weeds/flowers in recent months.
Today I was greeted by these gorgeous caterpillars:
Then realised they must be cinnabar moth larvae devouring ragwort.
Maybe 1 or 2 other similar plants in the garden, but no caterpillars - they've virtually stripped this plant so I feel like translocating them to more abundant food.
We're in the city with no close horses/grazing fields so what to do with the ragwort? Rip it up (gloved unlike when I took the photo steadying the flowers in the wind), herbicide or not worry?
A single plant can apparently release tens of thousands of seeds which can lie dormant for up to 20 years, and cutting it turns it into a perennial rather than a biennial.
Nature is quite fascinating.
New word for the day: Aposematic
Ah, now these are millennial caterpillars, which mean their markings are actually bar codes that can be read on a phone, and take you to a page to learn all about them, their families, friends and hobbies.