Phil Lynott-Thin Lizzy.

---
A fantastic writing from my friend from the USA Alan Ericson.
I thought it would fit to put it here with some pictures.
Always nice with some history around our music icons.

Thin Lizzy - The Rocker.
He's just a boy that has lost his way;
He's a rebel that has fallen down;
He's a fool been blown away;
To you and me he's a renegade… He's a clown that we put down;
He's a man that doesn't fit;
He's a king but not in this town;
To you and me he's a renegade… But he is a king when he's on his own;
He's got a bike and that's his throne;
And when he rides he's like the wind;
To you and me he's a renegade…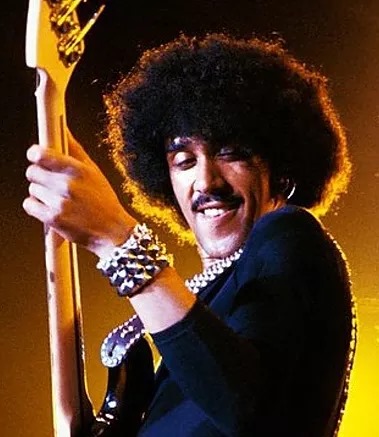 Phil Lynott was a true original in the history of Hard Rock and Heavy Metall.
Poet…Lover…Rocker
The late great Phil Lynott personified all of these and much more to all of us,.13-year-olds growing up in the sticks with nowhere to run to and nowhere to hide in the 70s.
One of the earliest promo shots of Thin Lizzy with Eric Bell.
We were all Renegades,.and Phil's words spoke volumes to how we felt back then;
a fool, a clown, a boy who people put down.
But when we would listen to Lizzy,.Phil made us feel like Kings of our town, and suddenly life became more bearable in that tiny town.
Phil hitting the groove.
There were others who told stories….
the Springsteen's,
the Dylan's, and such.
But they didn't live what they were saying like Phil did, and his passion was truly felt through his words and his melodies like no other of his time.
Fantastic twin guitar pairing,.Brain Robertsson and Scott Gorham.
And then there were the guitars…the beautifully layered guitar harmonies,that brought out the passion much more than any other bands of this era.
These were guitar parts that you could hum to- sing to even, and they meant as much to the song as the lyrics and vocals did.
Each song was a story with its own meaning and purpose, and you were suddenly transformed to Celtic lands of Vikings and Overlords to Cowboys and Pimps from Ghettos and Opium Trails.
You got to meet the Sweet Marie's, the Johnny's, the Rosalie's, and even Fats himself.
All of this coming from true Vagabonds of the Western World.
Great guitar player shots.
Help! My 8-Track is Squeekin'!
The first Thin Lizzy album I heard was Jailbreak when I was in middle school.
The kids all put it off as a joke of some kind, maybe from the album cover I guess.
This wasn't rock from England or the States, it came from some black dude in a band from Ireland for Christ sakes.
It definitely wasn't Skynyrd that was for sure! Lol
Scott Gorham in the zone.
And they were right;
It wasn't like anything else out there, which was right up my alley!
I think it was my buddy Leslie who got it first on 8-track, and we played that Jailbreak eight-track until the tape started squeaking from being worn out from the machine.
We would open it up and replace the pads to help it live a little longer, but eventually The Boys Back In Town had left the building!
It wasn't long after that I remember getting (and still have) the 45 of Rocky and Half Caste (now rare), followed by the album Johnny The Fox.
It wasn't as good as Jailbreak but still the guitars ruled and rocked hard.
I then went backwards and got Fighting and Night Life, which were great precursors to Jailbreak.
I would have loved to have seen this band during this era. Phil, Gary Moore, Scott Gorham.
I didn't care for Vagabonds, Shades, or the first album very much as they lacked the one-two guitar punch of lead guitarists Brian (Robo) Robertson and Scott Gorham.
This lethal guitar duo delivered the riffs and solos I treasure the most.
Just listen to songs like Warriors and Emerald and you'll know what I mean.
These are the songs of LES PAULS ON FIRE!
The devilish grin.
The SHEER ATTACK from Brian and the SCREAM RESPONSE from Scott on these recordings cannot be topped.
If you are new to Thin Lizzy, I recommend getting started with Jailbreak, Johnny The Fox, and Bad Reputation.
Those three are the trifecta of perfection from the group.
I'm not downplaying the contributions of Snowy White, Gary Moore, or John Sykes to the Lizzy machine.
They are all masters of their domains and Era's with Thin Lizzy.
I'm especially partial to the Renegade album with Snowy and of course you could argue that the song Roisin Dubh (Black Rose):
A Rock Legend has one of the best solos of all time from Gary Moore.
John Sykes breathed new life into Lizzy on their last album Thunder And Lightning with Cold Sweat and Holy War being standouts.
Thin Lizzy's live album Live And Dangerous,ranks right up there with Kiss Alive and UFO Strangers In The Night as one of the best live hard rock albums ever made.
There are also some copies of the album's live DVD out there that are good finds.
Long Live Rocks' Greatest Poet!
Phil Lynott's stories in song,were nothing compared to his own life's song of struggle with alcohol and heroin.
Lynott's last years were consumed by the dependency leading to his collapse on Christmas Day in 1985.
He was soon diagnosed as suffering from septicemia and died a couple weeks later of pneumonia and heart failure at the age of 36.
An memorial of Philip Lynott 1946-1986.
There is a statue made in honor of Lynott on Harry Street in Dublin that's on my bucket list to visit. Maybe, just maybe, I'll witness one last great story from Rock's Greatest Poet by being in its presence.
If not, I'm sure they're serving some nice whiskey in the jar nearby.
Alan,.who wrote this is a real Lizzy-supporters.
/Peder🙂