Thompson at 70 - excellent article. I hope they are televising / recording the concert.

Huw…any must have Richard Thompson albums i have one i think, probably should have more?
Thompson is one of my favourite artists. I love his music but I am also interested in the man. He is, as the article mentions, a Muslim living in Trump's America. He effectively sanctioned the Fatwa on Salman Rushdie. He wrote a song (Jerusalem On The Jukebox) that was a searing denunciation of US TV evangelists. How can a discussion on one of the most talented musicians of all time be expected not to encompass the above points? We can talk about our love of the music that unites us, but the music was created by a man; and the man embodies all the talent, foibles, idiosyncrasies and flaws that embody all persons. This could get tricky.
What a question!
The ones I listen to most at the moment are the Acoustic reissues (x2); just because I like the pared back approach at the moment. I also like any of the stuff he did with Linda, such as First Light.

Linda sums it up, and as quoted in the article, Richard is a changed man and is happy now.
A biography looking at the man and his music would be an interesting read, taking in the apparent contradictions. But I suspect it would reflect an evolution…
@Gazza you'll have to go a long way to beat Shoot Out The Lights it was all ending with Linda although she is still around for this album. The lyrics and guitar playing is up there with his best.

He is an exceptionally modest man. In his biography (admittedly now twenty years old) he is incredibly disparaging about his recorded output, especially First Light (one of my favourites too) and his most Sufi influenced recording. Sadly never reissued and original copies go for silly money. I also never knew that Gerry Rafferty was the original producer of Shoot Out The Lights. Thompson, a noted one take recorder, couldn't abide Rafferty's painstaking, Donald Fagen like approach with his endless takes. The pair had a big fall out. Rafferty's much more polished version exists as a bootleg and one or two tracks surfaced on (I think) the Watching The Dark compilation.
Lucky to have picked up First Light on discogs a few years ago.
Also Pour Down Like Silver from this era is a must buy as it contains the awesome Night Comes In. Less so but still a gem is Sunnyvista which never ever gets a mention!
The reason Sunnyvista doesn't get mentioned very often is because it isn't very good!! (and that's from an RT fan!)
I've seen RT in concert umpteen times including in the pouring rain at a "summer festival" a few years ago. He is an astonishing guitar player. He is in a different class to the likes of Clapton and Page (snore snore) but rivals Julian Bream as the best acoustic player ever from these shores.
I like Rumour and Sigh and Shoot out the Lights the best. So there.
Rumor And Sigh is generally considered the easiest point of entry. The production is a touch friendlier, and the songs are fun (although they're as dark as ever). On balance, it's my favourite, FWIW.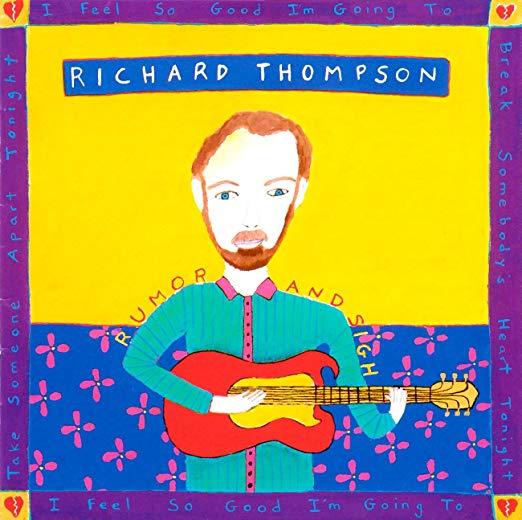 Amnesia, Electric, Daring Adventures, Hand Of Kindness. He's the sort of artist where pretty much every album is worth owning. His quality control achieves a consistency not always associated with such prolific output. He's also blistering in concert, with a fine sideline in bone dry, self-deprecating sarcasm. And if you're lucky you'll get ABBA or Britney Spears in a way you never could have imagined.
An album that for me doesn't get the credit it deserves, it does have a couple of numbers which feel a bit clunkily '80s, but it finished with How Will I Ever Be Simple Again and Al Bowlly's In Heaven, two songs that stand out even in his work.
All RT is great, but the very best can be found on his live albums/DVD's.
A personal fave…

Have a look on his website for the Beeswing CD's.
In addition to all of the above recommendations, Mock Tudor and Mirror Blue aren't too shabby either. Basically, you can't go too far wrong with RT.
N@Numptyhead funny up until this afternoon I would have agreed with you re Sunnyvista but not having given it a spin since I bought it years ago, I'm not so sure now. There are some of Richard Thompson's best song buried in this album. It features Linda on vocals on a large number of the tracks but RT is in fine guitar form. The standout songs are:-
Borrowed Time
You're going to need somebody
Why do you turn your back
Sisters
The track Justice in the streets seems to belong on First Light.
So for me not as good as Shoot out the lights or Pour Down Like Silver from that period but not to be dismissed.
The cover is just wrong with the rear photo even more disturbing.

[quote="bhoyo, post:12, topic:4341, full:true"]
Rumor And Sigh is generally considered the easiest point of entry. The production is a touch friendlier, and the songs are fun (although they're as dark as ever). On balance, it's my favourite, FWIW.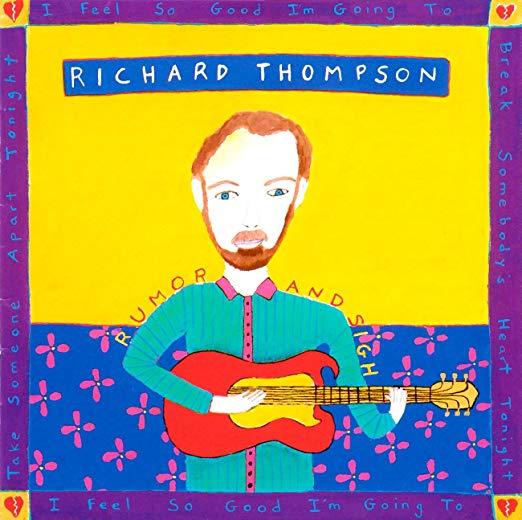 [/quote] Yes, Rumour & Sigh's probably my favourite too. The recent 2X45 rpm MFSL LP's just great.