Semiramide in the recent excellent studio recording under Mark Elder, featuring some of the best rising stars in opera today.
Cheers
EJ
Good to see this thread.
I have Dusapin, Perelå, uomo de fumo, stacked for a play soon.
Although I have a reasonable number of operas on vinyl, I've somehow never found recorded opera really grabs me, despite having been a season ticket holder at the ROH and ENO over the years, and now a regular at Opera North. I seem to need the spectacle of the staging to get the story to work for me. It's a real shame for me that I can't get the same feeling at home. Aida at Opera North on 1st May is my next outing.
I'll pick up a couple of recommendations from here and see if I've changed to be able to get the buzz without the theatre.
In anticipation of a performance in Amsterdam. I've always felt this was Solti's most succesful Wagner recording. Great cast, especially René Kollo who sounds powerful and youthful, and wholly committed. The latest remastering sounds excellent.
Cheers EJ
Giulini's 1971 studio recording of Don Carlo came 12 years after his famous run at Covent Garden. Live recordings of the earlier performance are available, and a unique opportunity to hear Jon Vickers, Gre Brouwenstijn, Tito Gobbi and Boris Christoff together. The studio recording, however, is the one to go for: the new generation of stars remains a matter of preference but the performance is much more complete, better played and sung, infinitely better recorded and Giulini's approach remained largely unchanged.
Cheers
EJ
I love both the Tannhäuser and the Don Carlos referred to in the previous two posts. I personally range from the Richard Strauss/Rosenkavalier/Karajan, through Karajan's Tosca to Giulini's Rigoletto and Trovatore to Antonio Pappano's Aida.
There's nothing like a good opera to gather up your emotions, give them a good wash and throw them out again!
Stephen
Those are among my favorites as well. But would hate to have to make a choice from a hundred or so others!
Aureliano is one of Rossini's serious operas, with some of his most famous music. That is, however, because it donated several numbers to Il Barbiere di Siviglia, including the overture and opening chorus, as this remains a rarely heard work. Great performance in Opera-Rara's typically realistic but somewhat muted studio sound quality.
Cheers
EJ
I have always struggled with the experience of seeing opera live. There is a an artificiality about the acting side of things that impedes communication for me. But I love a lot of the music found in operas. At home, I rarely have the inclination to sit down and spend a whole evening listening to a single opera (the Mozart/da Ponte operas excepted) so I tend to listen to just a single act, perhaps spreading the whole piece out over successive evenings. But I do have several short one-act operas in my collection and perhaps my favourite of the whole lot is Ravel's magical L'enfant et les sortiléges:
This packs a plethora of styles which would take many composers several hours to explore into a taut 40 minutes or so. And the moment when the child finds himself in the garden brings ravishing orchestral nature/night music like nothing else I know and which surely marks out Ravel as one of the supreme orchestrators. There is not a superfluous note in the whole piece. My French is pretty rusty but I can tell that the libretto (by Collette) is excellent too. A perfect miniature masterpiece.
Roger
Although there are many stories of Trovatores where the tenor was tricked into singing a high C in Di quella pira by a conductor who promised to transpose down but didn't really, this one's well documented. It gave us the most thrilling moment in the opera. Aside from that, this remains probably my favorite recording of the work. Decca's recording technology was far ahead of everyone else's at the time, and this late 50s recording still sounds good.
Cheers
EJ
Rimsky-Korsakov wrote some enjoyable opera… there is something about Russian opera that I find rather stirring … quite different from the regular Latin emotions.
The Tsar's Bride is one of my current favourites…
Among the many recordings of Don Giovanni, Muti's stands out as an uncompromisingly dark, brutal vision. That things won't end well for Juan is clear long before he disturbs the commendatore's rest and signs his seal.
The singing, within this version, is big and uniformally excellent. The recording is reverberant and adds to the atmosphere.
Cheers
EJ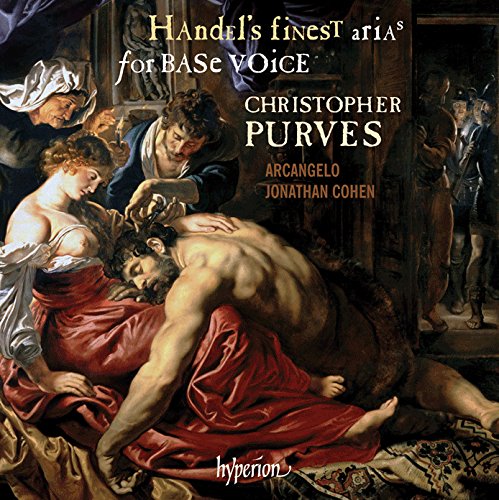 Handel's best moments capture a complete picture in individual arias, and as such, I often feel recitals work best with this composer. This one features Handel's most famous arias for bass, sung with great agility and amazing range by Christopher Purves. Arcangelo is luxury casting for the orchestral support.
Cheers
EJ
Is there a 'best' recording of Figaro? I'm pretty sure nobody except me has this one on their shortlist - it has been scandalously ignored by EMI / Warner, mostly lacks big names, and received rather lackluster reviews upon release. 30 years on, and we have to conclude it has worn very well. Truly excellent pacing by Haitink and great singing across the board, in EMI's best sound (1988 vintage).
Highly recommended, if you can find it.
Cheers
EJ
Love Solti's Figaro, too. And don't overlook Levine, also with Te Kanawa!
EJ
Massenet's style developed significantly during his composing career, and it's hard to pin him down. His most famous opera, Werther, sounds a bit like French Puccini. It is, I feel, his most accessible and best work, and this recording is ideal. Jose Carreras, here still in his prime, sounds amazingly beautiful.
Cheers
EJ
Sinopoli and Puccini were a great combination, and his Tosca is violent and overwhelmingly larger than life, with the cast on top form. One of the great recordings of this opera, and the best sounding one.
Cheers
EJ
Just been listening to Delibes' Lakmé. Once I had 'discovered' opera, British Airways' advert led me to this one. Interestingly last time I played it was about 6 weeks ago …on a BA flight! Although limited by the iPhone and Bose headphones it was quite delightful.

(Alain Lombard & Pari l'Opera Comique orchestra & chorus, with Mady Mesple & Charles Burles, EMI)
This is the only recording I've heard, so no idea how it compares to others.
I have yet to see this opera live - definitely one on on my list.