In praise on how good this pairing is has any other forum member paired up this combination?
Excellent picture Gavin Christmas decorations already!
I often wonder how many Allaes Naim sold, 349 is mentioned for the SL2s, NBLs I think is around 138.
Cracking speaker, cheap if you can find a pair and so easy to drive hence why they work well with the Qute.
No, they're year-round decorations.
@HiFiman,…My son has Naim Atom with Allae, 3.5m Naca5, Naim Chips, Cisco 2960-switch.
It sounds very good.
It was a present from me,when he graduated from the university as a completed civil-engineer.
Ethernet/streaming cable becomes a later issue,.right now he uses a noname-cable.
/Peder🙂
My UQ2 BT with a second pair of Allaes, PowerLine Lite from my 250DR (250 now has full fat PowerLine) speaker cable Van Damme Blue 2.5 terminated with banana plugs.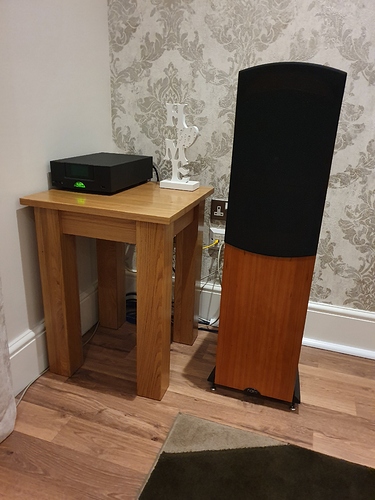 Lovely simple system that i'm sure sounds as good as it looks.
A second pair! My brother has an uq2 and just bought a bigger house, I'll recommend him the allaes.
Thanks Gary.
When I listen to this setup I often wonder why climb the Naim ladder as it gets right into the music groove
I purchased my original pair of cherry Allae's around 2003/4 sold them 13 years later, tried a few book shelf speakers then spotted a great deal on another pair of cherry Allae's slighter newer then my original pair and these are mint.
Ran the Allae's for a while on my main setup until a pair of cherry SL2s replaced them.
Tried to sell the Allae's but in the end I setup a second system with a used UQ2, so pleased I kept them as this setup sounds fantastic.
Hope you find a pair.
Anyone heard or have taken Allaes active before? A Canadian dealer had listed a pair, tempting it was.
Not heard Allaes active, one or two members on this fine forum have but for me too many boxes and staying put with the humble Qute.
@Dreadatthecontrols is your man. He was here last week on this subject. Couple of NAP90s. Loves active Allaes.
@Aren
Hi,
Do check them out if the dealer will let you audition them. great speaker easy to drive due to their high sensitivity (I think 89db I can check the manual), unfussy over room positioning and present subjectively a very "Live" musical and involving experience PRaT, yes I love them with just a humble pair of Nap 90s and IXO great combo. due to their high sensitivity.
Ive been using Allae's in this combination since they were first launched way back when and serve me well, so much so that I am very reluctant to return to any passive system even with higher order amplification, to me active at any level just makes more sense. for some reason, perhaps due to the increased box count active/multi amp systems seem to have gone out of fashion.
Naim used to promote an active system at entry level with CD3.5, Flatcap, NAC92 Flatcap, IXO, NAP 90s and Intros. Fantastic system which I have continued to own and upgrade with the Allaes and NAC 202, NAPSC, Hicap DR. I also had and continue to use an LP12 in this system which has progressively been upgraded to near full SE spec and the rest of the system still feels up to the task of revealing the benefits of those upgrades (GIGO)
I have seen written, although I havent heard myself, that the Allae's work very well with Valve/Tube amps, which opens another possibility.
Btw, someone mentioned earlier about not disturbing the screws in the base and drive units. I have emailed Naim technical support who replied that they no longer hold any formal set up documentation for Naim branded loudspeakers but were able to provide the correct torque settings for the base and drive unit screws. If one suspects that the screws may have been disturbed, applying the correct tightening torque to the critical screws should ensure correct performance.
Its Saturday night and I have an appointment with a few beers and some records so will post these in the week if anyone likes.
Cheers

Had them active at home for a weekend with a couple of 200s. I was taken by their transparency and in particular the in the room nature of vocals which were mesmerising. Unfortunately i could not get the bass to play well, with a rather boomy nature at certain frequencies. I just think they didn't like the room for bass, but elsewhere they were quite something.
Thanks for sharing your feedback, the Allaes have always piqued my interest and your experience along with everyone is invaluable, having never the opportunity to listen to any Naim speaker. Something keeps nagging that there is an impalpable reward of using an all Naim system.
I totally agree with you Gary. I replaced my active Allae to SBL which IMO having better bass quality and control compared to Allae. Anyhow I am missing something what Allae has.
Just realised this thread is crossing over with another similar thread I posted on