But…never be complacent…imagine the adulation if you had plugged the free floating end into an ethernet port!
This is mainly speaker cable from my hasty hookup of my new Nova. What are you supposed to do with all the extra bits of 2x4m lengths when your speakers are close to the stereo?
This is what I found when I moved my stack of cds away from the Xbox on the bottom tier. Mmmmm dusty.
OK, following recent rebuild…we have…
looks reasonably tidy from front…and sounds good…
top of brawn rack…
top of brain rack…
side view…
lots of cables…
Good work!
Shorten them. t's only the older amps that require certain lengths.
Shorten them? I paid good money for 'em!
Think of it as two pairs for the price of one!
As n-lot said, you are allowed to shorten them. Else, see photo in this post:
What sonic advantage does the apple bestow?
I wish I had taken more photos when I packed up my father-in-laws system when he moved house, I was horrified at not just the mess, but the very dodgy electrical wiring, here are a couple of photos I couldn't resist taking and sharing with my brother-in-law…2 nails used to make a connection into. Fig-8 socket to extend the cable…
PLEASE NOTE - I AM NOT ADVOCATING THIS AND IT IS NOT RECOMMENDED THAT YOU TRY THIS AT HOME, OR INDEED ANYWHERE…EVER!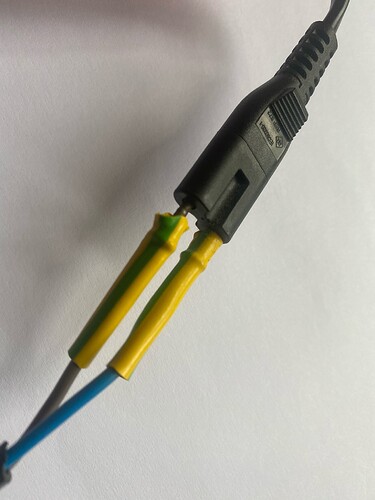 So many questions! Not least of which is, "How did it sound?"
I never got to listen to it! His main hifi in the living room wasn't too bad, mainly maranta KI-Sig, but his cinema room was upstairs. I hate to think of the mess in th wall where he had buried cables, including power cables…
It plugs in the front of the NDS, has all of the Beatles album on…all the rage back in the day…has always lived on the rack…
What impresses me most about this particular bit of cabling handiwork is the use of the earth sheathing to 'protect' the curious.
Wow, just wow.
Not great but I have seen much worse!
Have a look at the prices quoted for these on eBay
Wow…I still have all the original box, etc, all in as new condition…tempting…
This topic was automatically closed 60 days after the last reply. New replies are no longer allowed.