Has anyone one?
Standing near the system ?
Where buy some nice replica ? Can't find. Or very expensive ones.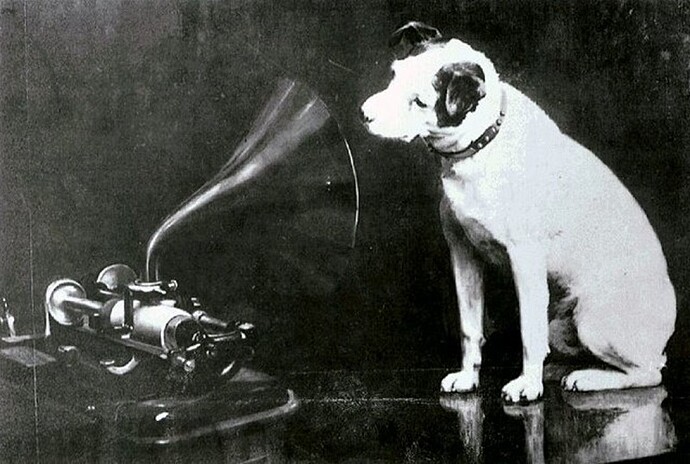 HMV in the UK used to do models of this, not sure if they still do. I can check next time I visit a store if you would like.
Yes, very thanks. I checked on Amazon and EBay, but couldn't find. Or maybe one but 200 dollars, used.
No problem. I will let you know next time I go. Normally one or two weeks.
I am searching something like in the picture here.
Picture from Mono and Stereo
Understood, I will see what I can find and take a picture for you.
I used to work at RCA in the very building where all the great products were designed and made. At lunch we would climb up into the tower where the big stained glass windows were. So historic.
Got a small one…
22 x 8 x 10 cms
and there are plenty of similar, for around the same price. Heck, I might even get one for myself
Isn't that very different from what he showed (just the dog)? And likely much smaller
FR did not specify size in his original post…
The ones being sold are reproductions of the original cast iron model from Rogers Foundry. Dimesions as given in my post.
The same site has larger cast iron Nippers (26 x 10 x 26) for around £35, but neither they nor the much more expensive porcelain ones come with a gramophone - which rather defeats the object; without the context of a gramophone, it is merely a Jack Russell (with apologies to all JRs everywhere
)
Yes, not bad indeed. But a bit small. However, if I don't find, it could be. 25 euros, not expensive.
It's 26 cm long or the height of the dog ?
That one is nice. But 250 euros. 14". 35 cm height.

I'm wondering who the figures are in the background…looks like a band. Some of Lovin' Spoonful?
Cream, even?
Wow that's cool where was this ?
The modern equivalent would be the dog in front of a little wireless speaker, with the caption "His mistress's voice" ('Alexa', assuming Alexa responds after every bark or whine.) But not as iconic in appearance as the phonograph!
The original picture was this:
And this is the sort of image I was thinking as the modern equivalent (apologies for crudity of the artwork):
Claimed to been made from the original mold: