Playing with a rope ball ???
Always! It's the last line of defence from young children being less careful than required with the lounge door.
The Conversation is my goto reference for a nearly perfectly constructed and paced movie. Pacing being an art of film making that is nearly lost in the past 25 years.
Funny: I am reading this book too.
I felt a bit shocked that i didn't even know about this movie until last sunday. Paramount has quite a few classics in their portfolio
Sailorck and bsdmr2,
I'm currently reading Ted Gioia's "History of Jazz". It's terrifically well-written and the scale of the research is formidable.
I also read his "The Honest Broker" blog and it's very interesting too.
Best wishes,
Brian D.
My usual evening position!
With bigger speakers the pictures are now partially obscured and the TV not central to speakers but I like the big Pics where they are. Maybe a smaller TV at some point to centralise it…
Beautiful looking system - I reckon a slight move across with the tv and raising the pictures will suffice - but otherwise superb!
Can you move the racks behind you and better equalise the speaker positions relative to side walls? As well as improving the view that might centralise the screen between speakers.
That's some thunderous looking bass generation you have there! Do you live in a house or an apartment ?
Hi , we just got this room finished last week .no pictures etc on walls so still very live sounding .
I bought the nSub to use with av which is why the Keilidh are still there, i still need to join av receiver to preamp . The nSub was to be used with main system for low level listening. But it's not been required so far . We are in a detached bungalow…

Looks excellent. And the neighbours are safe
'Nobody through the wall' was an absolute must when we moved in 2017.
G
Btw it was the carpet or a Supercap Dr for snaxo
The carpet won …
Ha. I listened to that Jack Johnson album last night. Excellent.
Where's the Linn Isobarik's?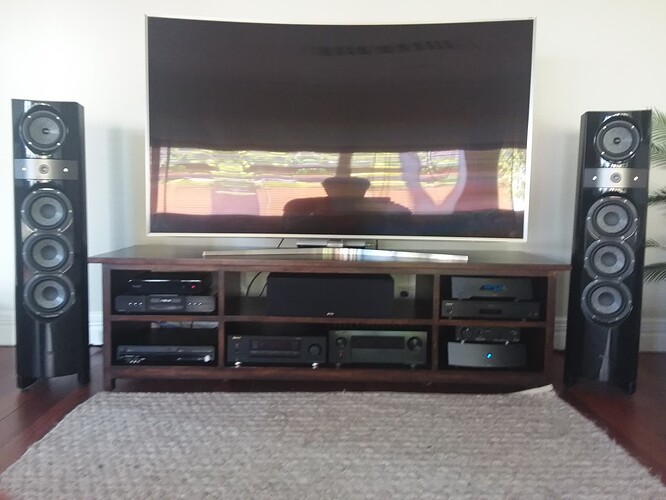 New Lumin Power Amp and Violectric V550 Headphone Amp (both bottom right in AV Rack) installed and up and running and sounding excellent. SN3 and HiCap DR that they replaced now going into second system
Did you ever try the Isobariks in active configuration? Interested to hear your comparison of Briks to 600's.