Big fan of the Stressless although mine has the electric leg comfort, as I couldn't be bothered to find space for a separate foot stool.
Does your electric chair need an earth connection?
Haven't looked actually. You don't have to have it plugged in, has a battery built in that lasts a rather long time also. Why is that.
narrow enough at the top to support my noggin and let the music past
, sparse enough that i don't fall asleep, its where i want to be
This is the loveseat I use for serious listening in front of the system:
This is my office chair, when I am working while listening to music: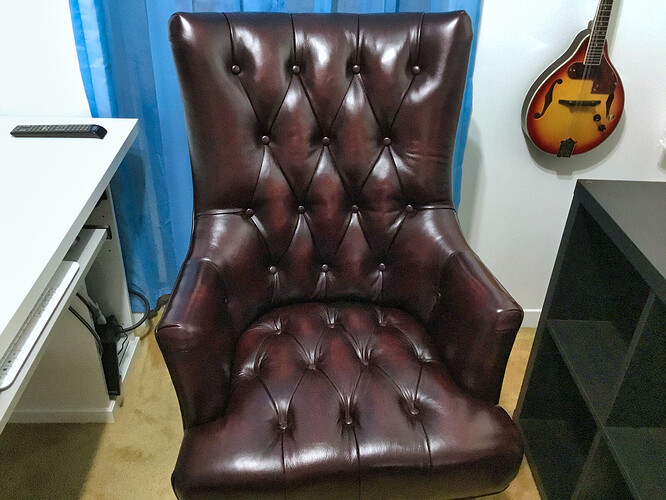 Great idea for a thread! Chairs are an essential part of the listening experience.
Lovely room Stuart, has a lovely warm/cosy look to it.
Thanks Popeye. It's usually infested with our dogs but they were out being looked after to avoid the stress of the sofa delivery. System is out of view on the right. Listening seat on the left.
It might be about the chairs but that table is beautiful!
Without going all good housekeeping… Where did you get the leather snuggler? It looks great!
Thank you. I got it at a store called Mobilart in Montreal.
Because my chair is uncomfortable and I don't have an earthed socket in the living room except the one the system is plugged into. If the chair is battery powered it becomes a viable option, except I'll need two so the cost mounts up.
Also I got to call it an Electric Chair.
True but it's the word "riser" within that sentence that would make it less appealing.
Are you gonna get an external PSU with PowerLine for it? Should provide a worthy uplift.
I have two, both shown in their 'parked' position.
The brown leather one is used daily when my wife is home - it's easy to move. The big red, when she's out for awhile: I rearrange the room!
There's also a sofa for slumming it…er…lying-down listening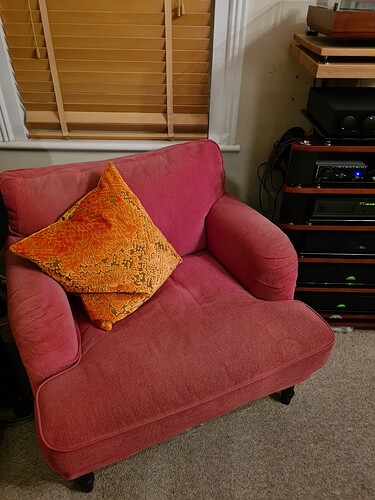 Hope your Llamas are ok in this cold spell.