Nice! Let's see how our 'Old Classic' 500 Series fairs amongst the new 'reference' kit.
If they outperform the 300DR then the 350 is perhaps on my radar later this year as no height in my unit to accommodate the 500.
G
There's a dedicated thread to discuss the new NAIT 50:
Are those the mono blocks in the bottom of the Fraim with the streamer and pre having on-board power supplies, or are the bottom boxes the NPX300?
… and prices for the 300 series are?
Is that one NPX300 for the streamer and NAC 332?
So the NAC332 has a built in power supply and can be upgraded with the NPX300?
Pricing:
NSS 333 streamer – $10,999 USD / $13,999 CAD
NAC 332 pre-amplifier – $10,999 USD / $13,999 CAD
NAP 350 monoblock power amplifier – $8,499 USD / $10,999 CAD
NVC TT phono stage – $3,699 USD / $4,799 CAD
NPX TT power supply – to be determined
NPX 300 power supply – $8,999 USD / $11,999 CAD
Preamp with built in power supply, plus lots of XLR inputs. Quite a change! Looking forward to reading all about it
Naim are evolving! The pre and streamer have onboard power supplies
All looks good - can't wait to read the reviews and have a quick listen in the shops. The Mono blocks are very interesting… 175W with 1.7kW peaks.
Where are you seeing the details?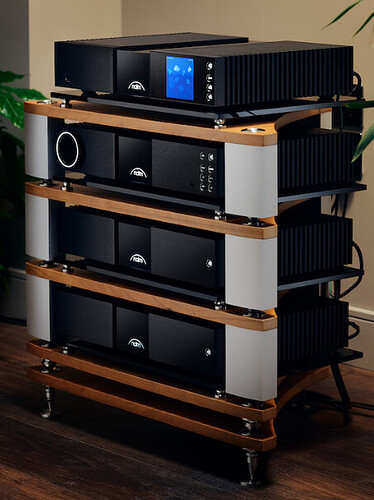 The photo above shows:
NSS 333 (Naim streaming source)
NAC 332 (Naim audio control)
NAP 350 (Mono - Naim audio power)
NAP 350
…NPX 300 PSU can be added to the streamer and the pre-amp, not shown in this photo
Lots of info to come about the architecture
Mike, see the product information sheets here;
Or two each for both products!
.sjb
NSS 333: £7933/ $10,999/ €9,000
NAC 332: £7933/ $10,999/ €9,000
NAP 350: £12,340/ $16,998/€14,000 per pair
NVC TT: £3,526/$3699/€4,000
NPX TT: £2,644/$3000/€3,00
Richard's locked post - has shots of the rear of the pre