Certainly is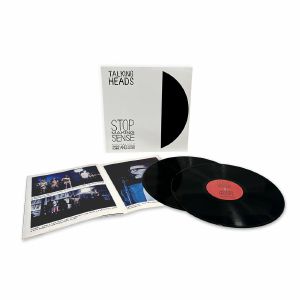 Talking Heads' "Stop Making Sense".
Image courtesy of Juno, from whom I pre-ordered it.
Have ordered this as well, despite already having an original '84 pressing and a '99 EMI Millennium pressing. However, these both only cover 8 tracks and not the complete concert.
Me too really looking forward to this.
A big stack (well seven, actually) of Craft Recordings reissues – all pressed at QRP and 100% analogue mastered by Bernie Grundman. This Contemporary Records Acoustic Sounds series will start releasing on 19th May and will carry on to the end of 2023:

And, most gratifyingly, there's this legendary Curtis Counce LP:
Both the Ornate Coleman LPs have both already been made available together in last year's Genesis of Genius box set from Craft, albeit pressed by RTI. Great to see the Curtis Counce available once more.
Not exactly in the right topic this question but does anyone know if there's a digital step in these two reissues by Warner/Parlophone?
Asking this because I was also looking at this reissue from Warner/Parlophone and as you can see on the bottom left on the back cover, this one was digitally remastered from tapes in 24/96 at Abbey Road Studios. Nothing like that on the back cover of the two above but one can never be sure these days.
Yes I have the Ornette Coleman box set but the others look very, very interesting especially Phineas Newborn and Leroy Walks.
Just received the CR70 email from Craft more dents in my wallet.
The Stan Tracey Quartet - Jazz Suite Inspired by Dylan Thomas' Under Milk Wood, Resteamed. (2023)
Thanks @TheKevster for the heads up on this reissue for me it's a huge deal and happily it looks as if Stan Tracey's son Clark has done this properly by using Caspar Sutton-Jones and Gearbox it's limited to just 1000 copies and is also reasonably priced at £25.
Curtis Counce - You get More Bounce with Curtis Counce, Contemporary/ Acoustic Sounds. (2023)
Another heads up from @TheKevster.
Prompted by Kevster's post, I gave my OJC copy of the Curtis Counce a play last night. It's a great sounding LP, for sure!
Will look forward to those, theres still a couple of titles from the first round that dont seem to have surfaced yet, My Fair Lady and at least one other
That's an awesome album Bob…