Hmm - our little cul de sac was built on cleared woodland, so we have some lovely Boletus (amongst others) growing in the garden at this time of year. Seeing Richard's post makes me think i should really do something with them. How do you dry them Richard ?
James, drying is relatively easy if you have an Aga or Rayburn or similar type of oven. I slice them and then put them on baking paper on metal trays. I then leave them on the top of the Aga overnight. In the morning I put them in the warming oven to ensure they are completely dry - this is critical if you want them to last!
Alternatively a baby belling works well if you don't want to buy a dedicated dryer.
Here's tonight's ingredients…

Super - thanks Richard. No Aga here unfortunately but i get the process. I take it that it's just add water or drop in elsewhere in the cooking process to rehydrate ?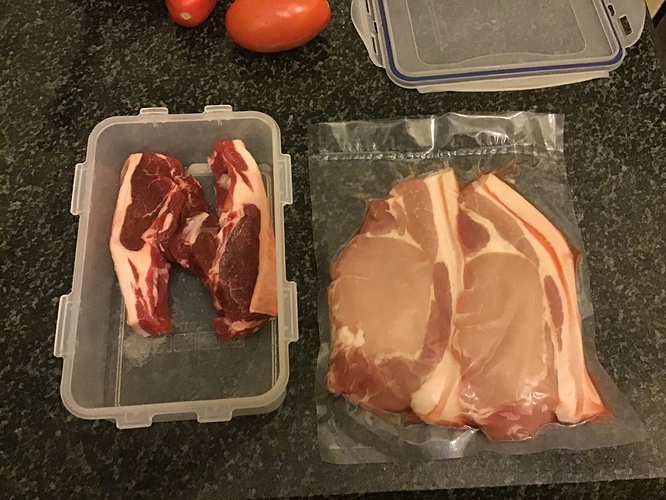 On the left are tonight's lamb chops; they have had 24 hrs salting as recommended by Samin Nosrat in 'Salt, fat, acid, heat'. On the right are the pork chops that are just about to be treated in the same way.
I can endorse this little trick - works well with beef and chicken too, although I normally brine the latter.
Out of shot are the bread rolls; these are part sourdough part yeasted enriched dough (egg, cream, milk and sugar with half and half stoneground whole meal and white flours from Shipton Mill. Since making rolls my bread consumption has halved (a good thing?) as I bake 12, freezing half for later in the week.
Good looking chops. Are you preparing them outside or in the oven?
I always make a slit in the middle of the chops and fill it with crushed garlic. Meat tests its best when cooked after reaching room temperature.
Agreed - won't be eating for another hour or so - got to give time for the wine to breathe.
Good idea with the garlic, I usually put sage leaves in the pork cavity. I'll be trying the fenugreek with the lamb.
Until I build the pizza oven (ha) they, the pork, will be pan fried for three minutes aside then rested for ten. I like them pink as there is little risk of tricanosis these days. The lamb will get a similar time as they are quite thick - again I like them pink to rare.
If you like your pork pink and juicy then try coating it with a thin layer of olive oil which will seal the exterior layer of the meat.
I'm lucky to live in a backwater where there is no pressure on such humble resources as wild muchrooms. I think the large influx of East Europeans has increased mushroom picking in the UK, and they are probably amazed that we allow such a great resource to be wasted. But things change, and there is always a balance to be struck. I believe the French are quite protective of known mushroom picking areas, and perhaps we should follow their example.
You need to slice the mushrooms so that they dry reasonably quickly, otherwise they will decompose before they are dry. The traditional method I use with a friend, taken from his Polish parents who were keen users of wild mushrooms, is to thread the slices with a needle and thread, and hang them up to dry. We no longer have an Aga, but any warm, dry space will do. An airing cupboard, or space above a central heating radiator or woodburner will do.
Rehydrating them is very easy. Chuck them in some water, and they rapidly absorb it. If they are going into a dish that has plenty of liquid in it, you can just chuck them in dry.
Having survived the in-laws with a BBQ last night, we're having another BBQ tonight - just the girls and me. Lamb chops and fresh Snapper caught by the in-laws.
Big into growing organic veg here so usually have 3 sorts with every dinner. Sunday roast dinner usually ends up with 4 or more veg and this time of year there's plenty to gather in. Potatoes are King Edward - perfect for roasting. The parsnip, carrot and beetroot will be chopped and roasted in a little olive oil, with a drizzle of honey over them for the last 15 mins in the oven. Chicken with homemade stuffing- using onion, parsley and sage from the garden.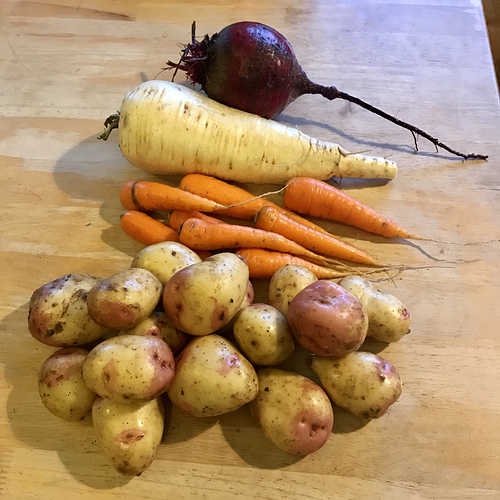 Shoulder of lamb and probably some Welsh Black topside of beef too.
Cooking them outside on the Weber gas BBQ believe it or not.
Assorted fresh veg being prepared, but microwave mashed potato for the kids.
May do some cauliflower cheese too, but after cocking it up the other day after too many glasses by adding cheese directly to milk before thickening and curdling it (weird as I normally prepare the base sauce before adding cheese), I may resort to a supermarket prepared one!
Late dinner - aiming for everything to come together just after His Dark Materials.
Is that a Nakamichi microwave?
I'm preparing to drive to Blaze pizza for a couple of vegan specials.
Wow, looks like you are feeding an army.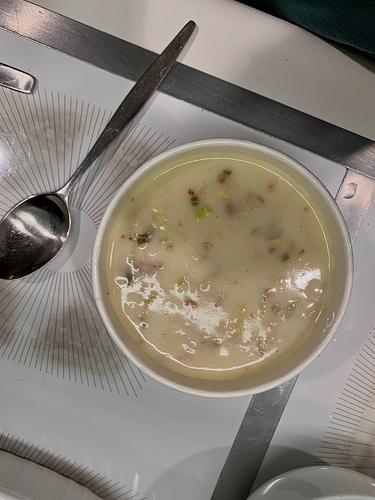 Cream based potato, ham and corn soup, much needed after five hours of slaving in the frozen yard and…
veal scallopini with peas, salad greens and plenty of sourdough bread. We have enough veal for three nights but the side dishes will vary. The beauty is that the whole meal (excluding the soup which was purchased at a deli) took 12 minutes to prepare.