Art was one of the 9's he got in his GCSE's this morning
What did he use as a reference to paint from? Is it all free-hand?
For reference he used some photos he took when we were at the Trafalgar Sq gathering after Russia invaded Ukraine. Yes all freehand, pen/ink, pencils and wash. He's very pleased with himself.
There's a lot of natural talent there. A lot. I mean a lot! I love art and see loads of it and I don't see such ease and fluid skill. I hope he uses his skill to it's fullest.
P.S. can you take those horrible clips off, they're ruining the paper surface?
Thanks, I'll let him know this. They came off right away, currently in a temp frame
My 'Mondrian' painted by a grateful patient many years ago …hangs in downstairs loo in France .
I wonder if it is upside down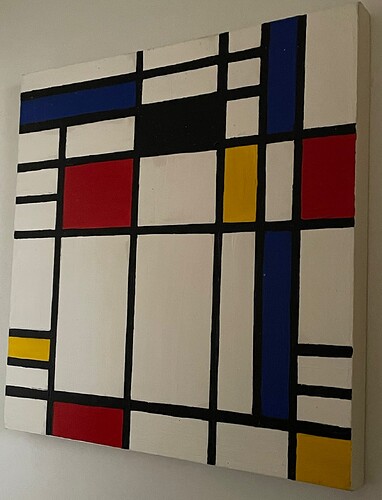 Think there's knock off of his work all over the place. I was even thinking of doing a wall in our new place with copy. Simple but stunning.
That is an excellent drawing by your son
I've just ordered a copy of this. It's by Jeremy Deller, with all profits to the National Brain Appeal, a worthy cause indeed.
I bet you'll be adding a full stop to your one.
I wouldn't own such a thing. The capitalisation is inappropriate.
Richard rowan he paints on glass, you can see him do it on you tube
Is that the guy who paints the picture on the reverse side of the glass and then you turn it over to see the finished picture through the glass?