I've starting wondering whether to swap my systems around between rooms - nothing definite but mulling over the pro's and cons. Basically, the main system (SN2/HiCaP/NDX2/XPS DR with Totem Forest Signatures and Heed headphone system) is in the large family lounge and performs really well. Benefits are the large room and view for listening, a great sound with the TV and You-Tube music videos and a nice place for late night headphone sessions. But, as it's the family lounge, I only get serious listening sessions when my wife and daughter are out of the house. Also lots of glass and a wooden floor.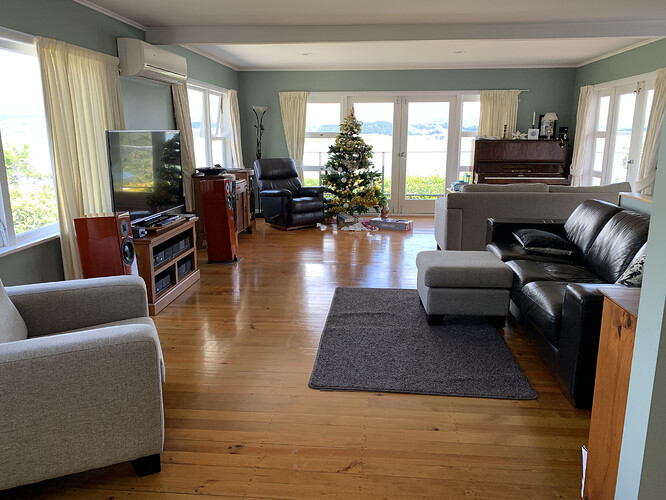 My second system is the combined downstairs office and movie room (Nova, Totem Hawks and Storm sub, Cambridge Audio CX UHD player and 65" OLED TV). Benefits are a dedicated listening room (= more dedicated listening with the higher-end system), matching with the better Bluray source for music videos etc and potentially better room acoustics, though the room is much smaller at 3.7m x 5.1m - listening across the room. Being a basement it has concrete walls on 3 sides (with false timber and plaster walls) and a floating plywood floor over concrete with carpet, but a low ceiling (2.05m). I would need to replace the desk at the left for a smaller one to make room for the larger speakers and put a rack where the sub is.
The possibility is to basically swap the systems between the rooms. I know that the answer is to try it, but, of course, it's a bit of a faff to dismantle the main system and move it. The Nova and Hawks used to be in the lounge, so I know how that will perform. I guess I could start by just swapping the speakers around and hear how the larger Forests work in the smaller room? If they work, adding the better source and SN2 should be safe, in theory at least? Any other thoughts?