Very nice and they make their own cd mechanism's which bodes well for service life.
Does it sound different with the DC blocker in place?
@JimDog No.
Nothing good comes from impulse buys at 2am. I knew over voltage wasn't the issue from the outset. Suspected a loose winding and defective toroid from day one due to the sound (chirping rather than humming) and bought a DC blocker anyway.
I might as well just buy the proper ifi SMPS. But why O' bloody why did they make them wall warts?
After many years using a quad 606mk2 with my ATC Scm7's I was able to acquire a Nap200. Just before the holidays.
Haha, well they priced accordingly for the ifi products they power. Given that the shipping back to China will already cost more than the third party PSU unit, I might simply order the same model talema power supply unit and replace it. They cost $30 and I can solder. I'll go to great lengths to avoid a SMPS and a wall wart if I can.
Fixing it has to be more eco friendly too.
New stands for the speakers in the home office, purely for visual reasons. Given the Audiovectors are curved not that many stands actually fit, and the Audiovector stands are stupidly expensive. Found these from B&W, where the top plate fits within a few millimeters on each side at the back end (and at 200 Euros they're quite affordable too).
New:
Old:
Not a new piece of kit but have just received my re-capped, serviced and restored Grundig Yacht Boy. Sounds absolutely wonderful - particularly speech on R4. If you have an old radio that could do with the same treatment then I can highly recommend Adrian at Radio Restoration
Just back from Ana Mighty Sound with a new stylus and suspension.

I could have had an Ogura PA as originally fitted but I opted for a Gyger S on the spur of the moment because of how much I'm enjoying the Replicant 100 equipped SPU Royal N. The Gyger S is fairly similar in profile at 6/120μm compared to 5/100 for the Replicant and 3/30 for the Ogura PA. I'm expecting it to be more sensitive to alignment as a result but the rest will be an exploration, there's a lot more to a cartridge than the stylus profile and the SPU is a very different cartridge compared to the Proteus but it's all good fun. Fitting will wait until after I move house in the spring.
A new PCB hot flash soldering iron and glue gun.
For repairing my cheap after market power supplies for non Naim components. Assuming RadioShack come through with the replacement toroids I ordered (the matching Talema ones were too expensive and out of stock till March).
Hopefully arriving tomorrow… ATC SCM7 to compare to my dynaudio's. I'm hoping that as i need to get them closer to the wall than i can with my evoke 10 the bass will be better controlled and wont be much lighter. Let battle commence

Edit - landed and warming through
Got this yesterday, yes I know it's not hifi but it's audio. I bought it really for use in the camper van. I've found that DAB radios are next to useless.
This one sounds very good and I'm going to explore the SSB.
Just installed a pair of Townshend podiums under the 606's, replacing the supplied spikes on Naim chips.
Sound is instantly 'different'…
Bass seems more defined, more clarity on the mid/upper ranges, low level listening good, overall the sound seems a little cleaner/louder - so dialled down a touch.
Will try a little more tweaking later next week…so far, so good !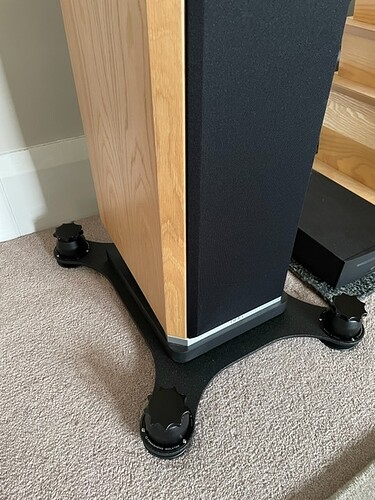 Is that one that's actually in your house? If so, the badge looks wonky.
Ordered Witch Hat phantom speaker cables. And an Lapp öhlflex premium power chord. Now waiting upon arrival.
Yes it is… corrected now.
Very interesting. I read the expert reviews after reading your thread. They all give excellent verdicts. It was mentioned several times that these podiums are one of the best value upgrades you can do. Apparently, Paul Messenger has them beneath his 800 d3's and PMC have used them when demoing their speakers. I would be interested to see how you get on. Thanks.
DECWARE ZEN TRIODE INTEGRATED AMP
2 W (TWO WATTS) single ended EL84 for my Klipsch Heresy III
purchased now in 2022 but will most likely be ready in 2023.
handmade in the USA
Out of interest, how is it attached? I'd always assumed they were stuck on.